OK, here we go… pocket check!… What gear do you have on you right now?
You probably already know this, but in the tactical world, everyone loves talking about EDC (Every Day Carry) - or what gear you have on you at all times.
For most people, standard issue items are a cell phone, maybe some sunglasses, for a lot of guys it is a knife of some sort, your keys, etc.
But in my experience, there is one critical item that most people are missing… and that is a pen.
Now hear me out, I am not talking about some plastic ballpoint pen or an expensive showy pen, I am talking about a "tactical pen."
What is a tactical pen you ask?
A tactical pen is a legitimate writing instrument that is made from lightweight metal that can be used for double duty... writing checks, and stabbing necks.
Now in all my years in SF, I have used a lot of gear, but my pen is the one piece of "kit" that I can take with me no matter where I go, and no one ever so much as bats an eye at the sight of it.
I definitely cannot say the same thing about my rifle, pistol, or even my pocket knife. Obviously you're not getting on an airplane with any kind of pocket knife.
So for years I have carried one of these traditional pens with me every day.
But the pens available to me were just basic, metal pens. Nothing extra. Sure, they were great for writing and as a "protection tool" in a pinch - but that was it.
That's when I decided to make my own tactical pen and incorporate all the features I wish I had with me everywhere I went.
Introducing the A-TAC TacTool Pen...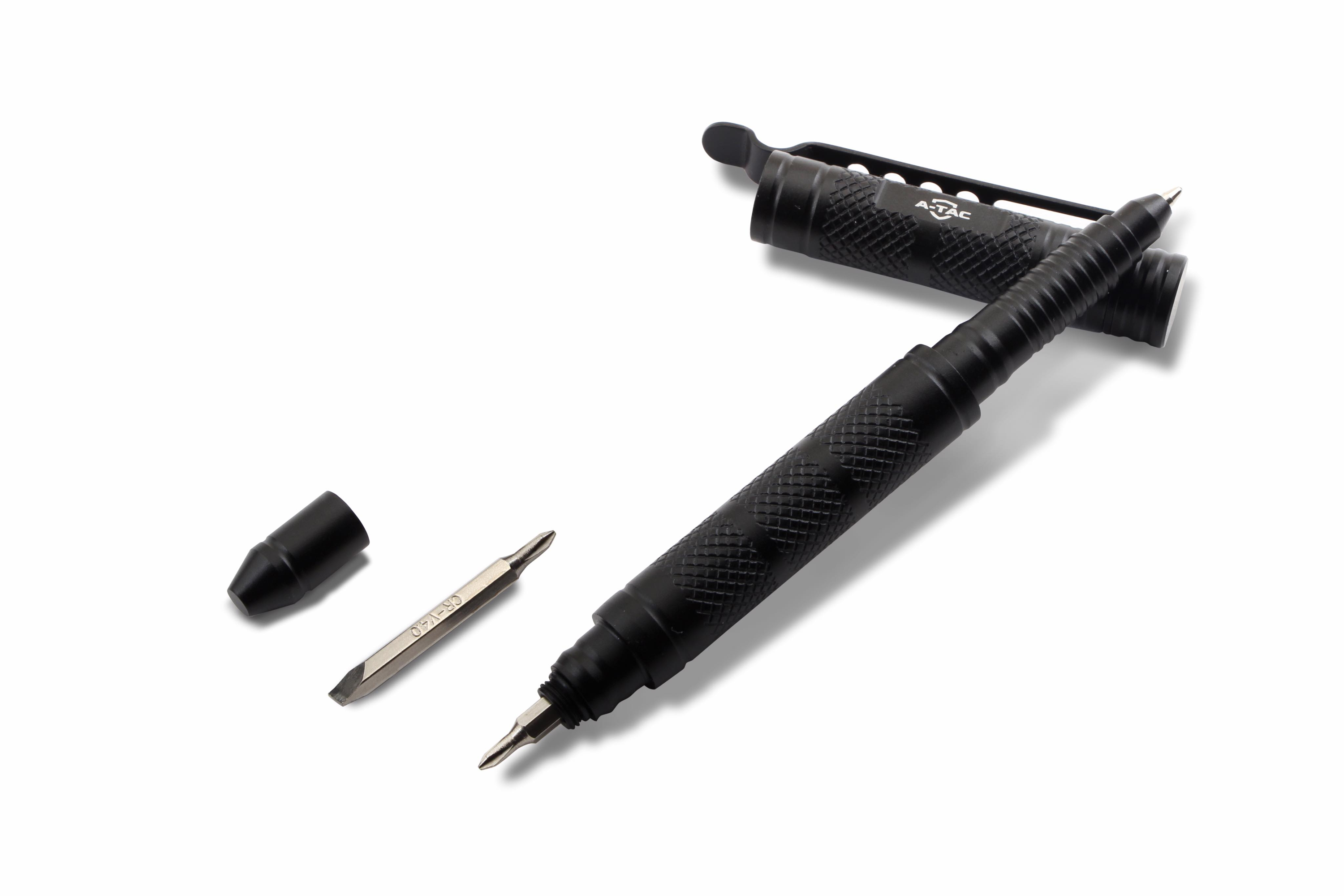 This pen delivers a ton of gear in a small and discreet package. At approximately 6" inches long, it contains both a phillips and flat-head screwdriver, and a blunt strike tip designed to exponentially magnify the velocity of any strike. What that means is, the "strike tip" is a devastating tactical tool that won't cause you go to jail if you catch my drift.
On top of that all - it does its primary job as a precision writing instrument (that accepts a standard G2 ink cartridge) very well. All this magic is wrapped up in a nearly indestructible black anodized aircraft grade aluminum, providing the user with a tool that's discreet to carry.
So there you have it - the single most important piece of gear in my EDC lineup. I never leave home without it, even if I'm flying.
Check out the A-TAC TacTool Pen - click the button below.